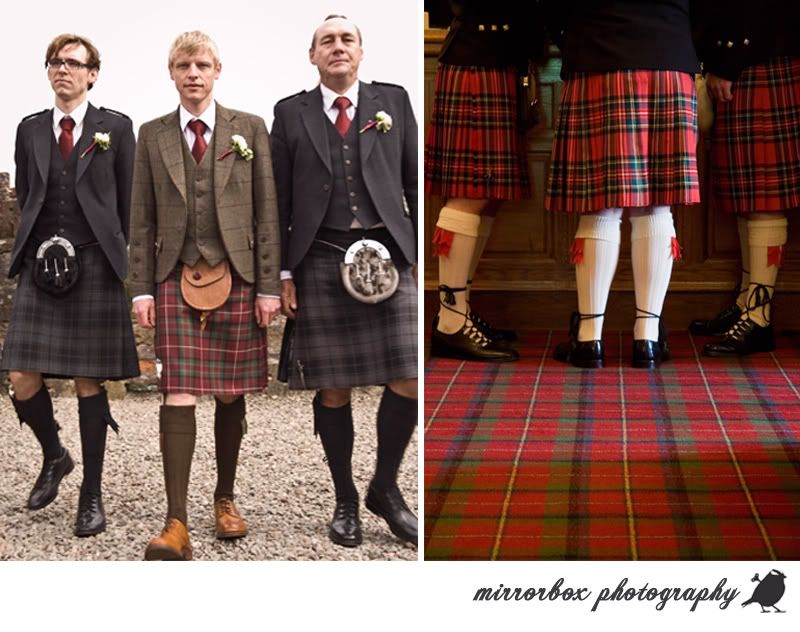 As far as wedding fashion goes The Dress is, quite rightly, the centre of attention. All eyes are on the bride, with her accessories and maids dresses designed to compliment her look on the biggest day of her life. But lets not forget about the groom. There are more and more dapper outfits on the market for the husband-to-be to choose from - and what self-respecting 21st century man wouldn't want to look well turned out on his wedding day?

Here in Scotland kilts are the de rigueur wedding wear with a staggering array of variations on the jackets, waistcoats, sporrans, sockflashes... Having a trusty guide to help you narrow down the choice is essential. Are you hiring or thinking of buying? Is your tartan a bit, well, garish and you'd like to know what other options are available? Over the last year and a bit we have got to know Cameron Foster of Slanj Kilts and asked him what he can offer you when you're making your fashion decisions.

Cam, I first worked with you when you fitted my husband's kilt before our wedding. Quite a few of the weddings we've shot have featured groomswear by Slanj. What do you offer that sets you aside from other kiltmakers?

Its maybe not such a coincidence that we have both worked on quite a few of the same weddings, in a lot of ways I think we try to offer the same things. We like to take some time, try get an idea of what sort of wedding a couple are hoping for and then make sure we get the right outfit, or outfits, then its all about the details. A lot of the time we end up spending more time on, say, tie colour than anything else.

So you'll spend plenty of time when the couple are picking the outfits?

Yes - really as long as it takes. We try to get all the sizing done in about 15-20 minutes, that bit needn't take too long, then we get down to the business of looking at tartans. Ideally a couple will have a rough idea of what they're looking for; if you have a colour scheme in mind the first fitting is probably the best time to bring it up, that way we get a chance to order in any specific bits and pieces you might need. There are a few tartan websites that are good places to start like The Scottish Tartans Authority and The Scottish Tartan World Register but if it just comes down to trawling through sample books that's fine too. We've all got a pretty good knowledge of tartan and can usually make some helpful suggestions even if all you've got to go on is a swatch from the bride's maid's dress.

That's usually it for the first day, we tend to find its easier for everyone if we look at accessories when the kilt and jacket are made, it can be a bit tricky to visualise a full outfit and there's no point rushing into a decisions like that if you don't have to.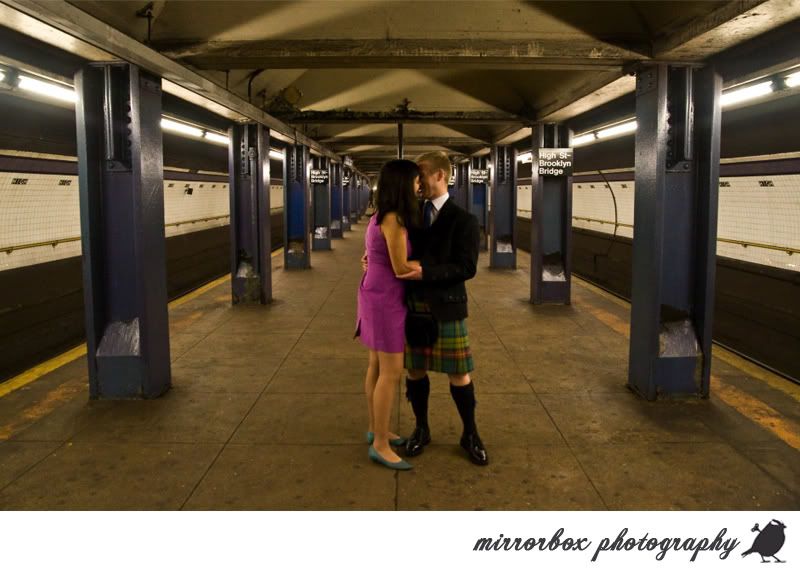 There are millions of tartans (possible exaggeration). Does Slanj offer a 'tartan finding' service?

Yeah, we can usually source most tartans on way or another. In fact we just finished one the other day in the Dunn tartan for this really nice Texan family. It did take a wee while to track it down and get permission to weave it but it looks great and, apparently, its one of only three or four kilts ever made in that tartan. Not that everyone needs to go to that sort of trouble. Its worth bearing in mind that a lot of family names have more than one tartan attached to them. So, for example, if you're a Buchanan and for some reason the idea of bright yellow and red stripes doesn't appeal then it might be worth while looking at the ancient or weathered variants. Both are a little more subdued and mean you don't have to try to get the bridesmaids to dress like daffodils. Of course not everone has a Scottish surname but there are tonnes of non-affiliated and regional tartans to choose from too and a lot of these have a more contemporary feel. Something like our own grey Slanj tartan, which is one of our most popular hire tartans, is a good example.

Hiring kilts is a popular option, especially if there are a few ushers and best men to dress too. What are the advantages of hiring?

I think for most people it comes down to cost, obviously your choice is going to be limited but it works out at about a tenth of the price. When we started to do hire at Slanj we wanted a range that looked smart but was both neutral in colour and history. This is why we don't hire clan tartans and I think that's one reason why we get so many international customers.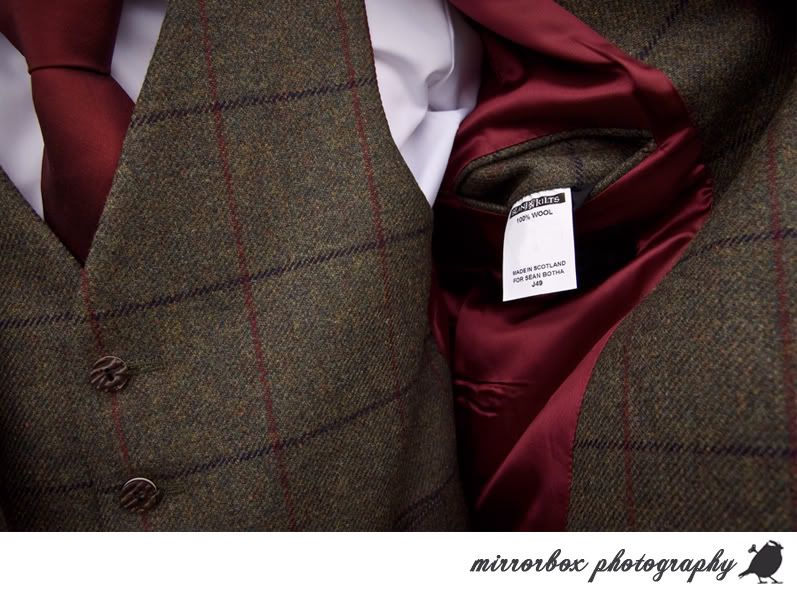 How does that work?

Its pretty straight forward really; we've got a self measurement guide on the web site and people just email their sizes and outfit choice straight to the shop. We had a guy from Austrailia the other week who thought his neck was bigger than his waist so we had a look over all the measurements to make sure everything is in proportion. Naturally we have to do this with as much tact as possible; I don't want Big Bruce McNeckerson coming over from Oz to pick up his kilt and kick my ass! But we very rarely have any problems. I always enjoy it when folk come from down South or overseas because they get a buzz out of wearing the kilt and it really makes them feel like a proper part of the big day without standing on anyone's toes.

What trends are coming up for this year's wedding season?

Its all about tweeds for the next few years. We've just opened our own factory in Glasgow so the price of custom made jackets and the like has come right down. Some of the tweed stuff we're producing at the moment is beautiful - you've got to be careful what you match it with kilt wise, but when it works; it really works! I think a lot of people like to go for tweed to get away from the slightly military feel of the more traditional jackets or to keep things contemporary without resorting to a leopard print kilt with go faster stripes. You've photographed a couple of weddings with our tweeds I think and you always do a great job of working that "Highland Romance" aesthetic that tweed really lends itself to.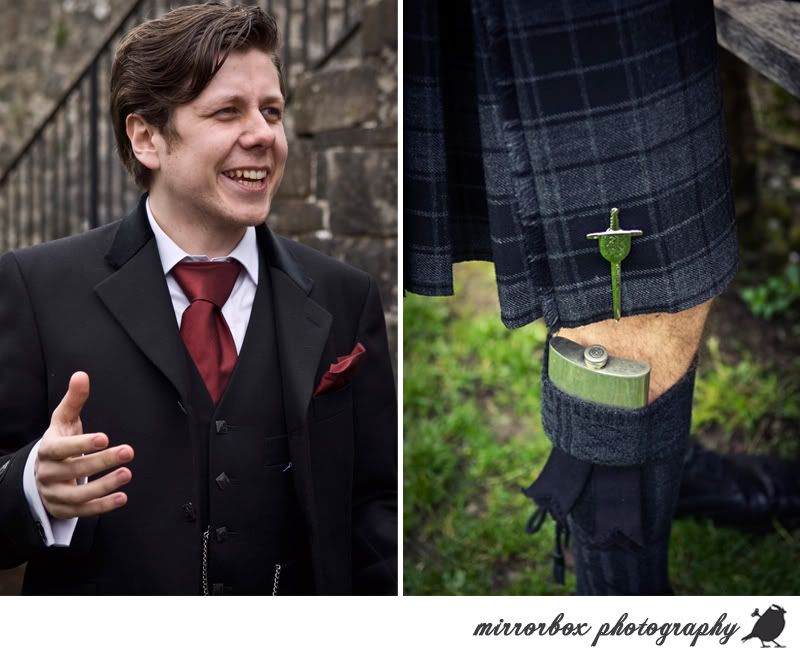 Cameron is the manager of Slanj, 14 St Mary's St, Edinburgh. You can also find branches in Glasgow and Aberdeen. Check out their website to get a flavour of the range they offer.